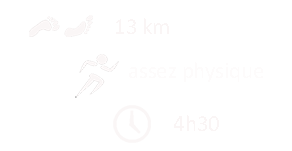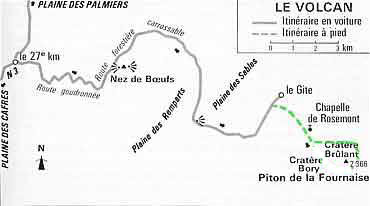 Important pieces of advice !
If you leave late with small children and elderly people you can easily drive to « Le Pas de Bellecombe » where you will face the Bory and Dolomieu craters. The drive will allow you to discover magnificent sites.
Leave early to benefit from the cool early morning air. Follow the markings and don't lose sight of them !
Solar cream and a cap are a MUST. Protect yourself because you can easily get sunburned up there. Black lava is known to reverberate the ultraviolet rays !
Don't take your dog with you : he's bound to scratch his pads on the crust.
Always have a survival blanket, a torch and a first-aid kit with you.
    IN CASE OF EMERGENCY
Keep in mind that mobile phone networks don't operate on numerous volcano zones.  MOUNTAIN POLICE SQUAD EMERGENCY NUMBER :  0262 930 930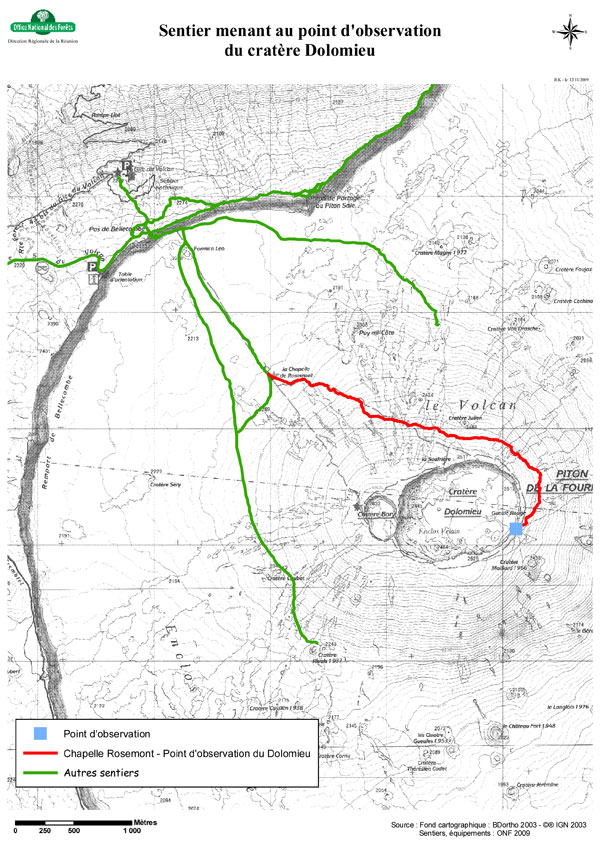 DEPARTURE : PAS de BELLECOMBE
departure from « Le Pas de Bellecombe » (2,350m high) towering over a gigantic caldera formed 5,000 years ago. The rampart marks the limit of the Fouqué enclosure.

FORMICA LEO ( 2200 m high) It is a very old volcanic cone (dating 1753). Its red ochre colour is typical. It got its name from its funnel-like shape which reminds the work of the burrowing ant larva.
You go down the Formica Léo with the help of a very long handrail (obviously 'longer' on your way back…)
It is very well maintained.
ATTENTION : For ecology reasons (accentuated erosion of the mound) it is highly unadvisable to climb up this small crater which is constantly eroding.

THE ROSEMONT CHAPEL

( 2250 m high) 1h30 This mound is evidence of an ancient emission point.
As you climb up to the summit the slope becomes quite steep.
You can see different types of solidified lava : tonguelike lava, sheetlike lava, crust ..

.

THEN

… When leaving the Rosemont Chapel, the climb to the summit gets more difficult and tiring. The slope gets steeper. You walk over ancient lava flows which at the start are rather stable. But, from mid-slope on, you walk over more recent lava flows ( from the 2,000's) displaying crust which gives way under your foot. The track is more friable but is never dangerous.
Get ready to sweat!!!

THE OBSERVATION AU DOLOMIEU

(2632m hign) about 3 hrs walk ; A white line warns you not to walk over because of the void !

In case of strong wind, fog and much less at night, the most extreme PRUDENCE is recommanded : the VOID of the Dolomieu Crater is 300 metres deep down..

RETOUR AU PAS DE BELLECOMBE ( par le même sentier unique ) 5h